FilterLOCK Furnace and Air Conditioning Filter Seal
Build-Right FilterLOCK | Our#: 176742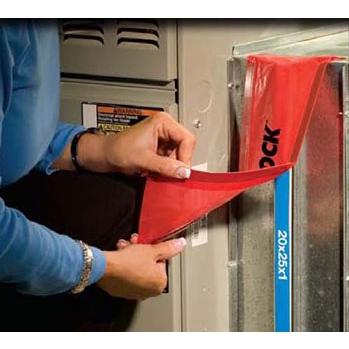 FilterLOCK Furnace and Air Conditioning Filter Slot Seal
Description
---
The Filter Slot Seal is ideal for any furnace, air conditioner or air cleaner filter. Based on recommendations by the Department of Energy, you should cover and seal your filter slots in order to prevent air leaks. In addition to preventing air leakage from around the filter, it also prevents dangerous chemicals, particulates, allergens, carbon monoxide and other contaminants from bypassing the filter. This product includes two overlapping pieces of flexible vinyl. It uses magnets to form an attachment to the metal ducts around the filter. Reusable, the Slot Seal allows the filter to work efficiently. Your indoor air remains cleaner and healthier when you apply this tight-fitting and secure product. For greater efficiency and protection, use Slot Seal on your furnace, air conditioner and air cleaner filters.
protects your home all year as it prevents allergens and pollutants from entering the indoor air you breathe
4-3/4" wide, up to 25" long coverage
fits standard air filters
two overlapping pieces use magnets to secure the Slot Seal to the surrounding duct work
reusable
increases the filter's efficiency
save money because the Slot Seal reduces energy loss
Reviews
---
Easy to install (14)
Good value (10)
Good size/fit (9)
Durable (8)
Compact (4)
Central AC (11)
Central heating (11)
Home (3)
Reviewer Profile:
Homeowner (14), Professional (3)
Easy To Install
Good Fit
Good Value
Stops Dust Infiltration
Central AC
Central Heating
Effective and simple invention! I used to use masking tape to stop dust infiltration around the filter slot. It was difficult to replace the tape with each new filter. It is easy to put this seal off and on with each filter change.
Easy To Install
Good Value
I had a home energy audit done and this was described as "low hanging fruit" meaning the easiest way to improve the efficiency of my heating/cooling of my house The filter lock was easy to install. It prevents cold attic air from getting pulled into the system and in the summer it will prevent super hot attic air from having to be cooled.
It's a great idea and a great product.
Compact
Durable
Easy To Install
Good Fit
Good Value
Central AC
Central Heating
This is super easy to install. It came in two parts with magnetic sides which overlap on top of the opening for the furnace filter. It fits perfectly and it will be easy to remove and re-attach every month when we change the air filter.
Easy To Install
Energy efficient
Good Value
Central AC
Central Heating
Home
Easy to install, simple product but works, seals air leaks around filter
Easy To Install
Good Value
Central AC
Central Heating
I was told by a heating/air serviceman that I needed a new filter housing custom built because the filter slot was too large. This product saved me hundreds. The filter slot is now completely sealed keeping dust and debris out of my furnace. Thank You discount filters.
Our furnace had a metal strip covering the place the furnace filter sits
I was always worried about cutting my hand on it
and it did not cover the opening right
I ordered the Filterlock Slot Seal and it worked out great
The opening is sealed tight , easy to remove and change filter
Exactly what I was looking for Thanks
it's a good quality product but it's magnetic so it only works if the whole area surrounding your filter insert is also magnetic. Mine only sticks on one side :-(
Central AC
Central Heating
This was recommended by an energy audit advisor. However, it will not seal on my unit because I have latches on each end of my filter slot. So I used it on a vent that I didn't need any longer. Worked fine on a totally flat surface
Compact
Durable
Easy To Install
Good Fit
Good Value
Central AC
Central Heating
Home
This was suggested during checkout. I'd never seen these before. Reasonably priced. Easy to use.
Works exactly as described. Fast delivery
Questions and Answers
---
Literature